Subash Parajuli, Teaching Resident for Darchula 2018-19
---
While I decided to go to Darchula for the 'Teaching with Technology Residency Program', my excitement was mostly about visiting a new place in the remote far-western corner of Nepal. The only thing I knew about Darchula was that it was a district that shared its borders with both India and China. There was not much expectation, except getting to explore a new part of our country. After an intensive training in the OLE Nepal office in Lalitpur, I and my fellow residents – Ashraya and Sanish were finally ready to leave for our residency program in Darchula.
The local accent started to sound strange after we started driving uphill from Dhangadi; however, we were able to catch the essence of their conversations. If one knows both Hindi and Nepali well, then understanding the language was not a big issue. Having travelled to many places in Terai region of Nepal, I was aware of the influence of Indian culture there, but witnessing the same in the hilly region of Nepal was totally new to me. Since people from this region have been crossing the border to work and trade in India for generations, it made sense that their dialect and accent had Hindi influence.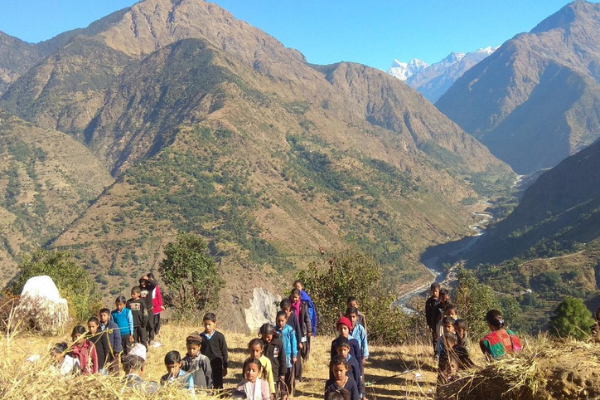 Our stay in Marma was calm and soothing, with only the sound of Chameliya river flowing. Every person passing by would ask about our home and our purpose of visit. For us too, the places and people of Darchula were just imaginary before getting there, but these people and places turned into reality. The kids, the schools, the teachers, the strangers passing by weren't just in our imagination anymore. Everyone we met was so curious seeing us there, and we were equally inquisitive about them. Some kids even got frightened seeing strange people who looked different from the locals. It felt like it was a totally unexplored, unseen part of Nepal, and the culture was still unaffected by external factors. It's strange that the tone of their language sounded somewhat rude to us as we were not accustomed to it, but the people were very warm and hospitable. Most common food was chapati/roti/bread of maize, and vegetable soup made with buttermilk. While travelling from Marma to Lekam region, which is closer to India in the same district, there were some noticeable differences in culture and language. We had learnt the language in one village, and tried to use it in another village, then the kids would laugh and adults would help us correct our language.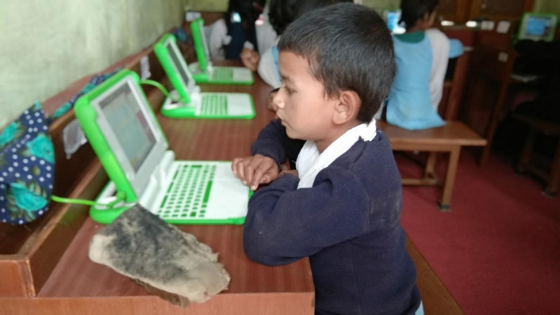 The physical infrastructure and situation of schools was not different from any other rural hilly region of our country. Inadequate number of teachers was a common problem among many schools. Students addressed teachers as "Master sa'b" which felt really fascinating, as we normally address as "sir". We had only heard "Master sa'b" in some Indian movies only. However, the teaching subjects, school infrastructures and teachers share the same challenges and happiness with any other schools of Nepal in hilly regions. Even in such remote areas, teachers are qualified and have strong learning attitude. They really want to contribute something to their communities through the schools, and are willing to increase their horizon so they can bring the world to their classrooms and communities.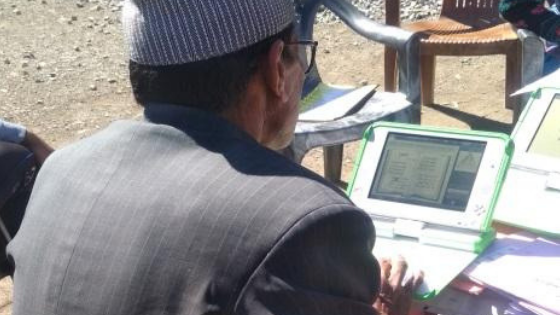 When we reached the schools, the laptop program had already started; all the procedures were already set to run the laptop integrated classes smoothly. It was really good to see that all students would wash their hands, wipe their hands dry with their handkerchief, and leave their sandals or shoes outside the door, before entering the laptop room. Then, they would wait for the instruction from teacher to boot up their laptops. Seeing all these activities with this beautiful cultures in a small corner of a village, gave me immense happiness and motivation. Setting cultures in classroom is really a huge challenge. The teachers were doing a great job to impart their learning from training to the classroom. The zeal of teachers and students to adapt to new technology, and their curiosity to learn new things, motivated me to contribute more to their learning pedagogically and technically. Having only the resources and training is not enough to improve the education, but the learning attitude and motivation to contribute something to the community are equally important. The involvement of the School Management Committee, and the parents, was also needed to make this program more successful and sustainable.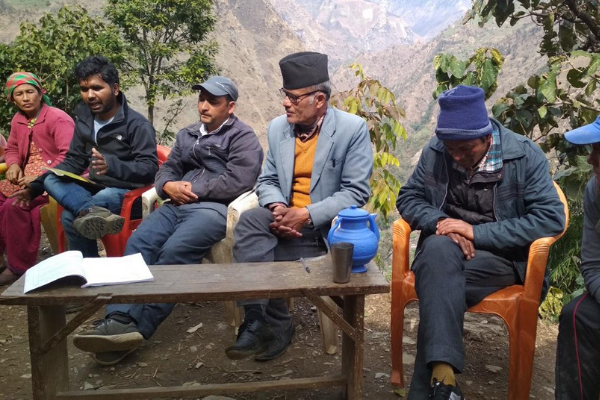 I came back from Darchula with the strong motivation to work in the education sector of Nepal. I believe that every child deserves an excellent education, and nothing should stop of a child to attain that. The laptop program and the Teaching with Technology Residency Program of OLE Nepal have also contributed hugely by providing state of the art digital learning tools to the students of such remote places of our country. To strengthen Nepal's education system, we must start from primary schools, and technology enhanced learning is essential to fill up the huge gap between the public education system of Nepal and the education system of the more developed countries. I am also grateful to OLE Nepal for providing me such an opportunity which helped me to contribute something to Darchula and also to learn a lot from there.
The laptop program in Darchula was launched on September 2018.