By Fabian Collignon | March 2020
---

Hi, I am Fabian from Germany and I have had the pleasure to be an intern and volunteer at OLE Nepal for the last five months. I was part of the content creation team, where we developed video games that teach chapters of Nepal's mathematics and science curriculum for years seven and eight. Even if math is not your thing, what is more exciting than games?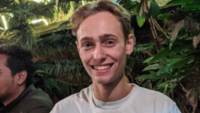 Getting into coding to get kids into science
I did not know much about programming when I arrived at OLE. So I sat down and worked my way through hours of YouTube tutorials and blog entries about "Unity" – our game development engine. Although I was never able to fully get away from Google searches about mysterious bugs and errors, after two weeks I was confident enough to dive into programming some early Projects.
Learning to make learning fun
In Germany, I had tutored students in physics and mathematics and that teaching experience really came in handy. I picked up how to break down topics and to utilize enthusiasm for successful autonomous learning – insight that fits right into OLE's game project.
Now it only came down to applying this knowledge to the curriculum and to creating concrete content from it.
"Learning should be a joy and full of excitement. It is life's greatest adventure." – Taylor Caldwell
One of the first projects the team and I kicked off was "Space Explorer". This game sends you on a journey around our solar system. While you try to steer a rocket through the asteroid belt or around Saturn, you need to devise a strategy that incorporates gravitational effects, thrust and launch angle. Discovering all those new concepts becomes the adventure itself and aims to make learning intuitive.
Teamwork goes a long way
From day one it was obvious that team effort at OLE rules! In a daily meeting, our Dev group came together to report on progress, assign tasks, discuss workload distribution and to forge a plan for the day. This formed a fully integrated team of content creators, graphic designers, and software developers – and it gave insight into so much more than just the code on my computer screen.
Lunch, tea and OLE Nepal beyond work
At 12:30 pm the whole office would have lunch that our lovely Didi cooked. Whether it was Momo Monday or Dal Bhat Wednesday, we all sat together, ate and talked. I already knew to appreciate everyone from the great teamwork and now we really got to know each other – waffling from soccer to politics to universities. At lunch, I truly started to take my colleagues to my heart and it felt good to have OLE become more than just a workplace.
Thanks OLE Nepal!
It has been an absolute pleasure to work on such interesting projects with such amazing people – I thank all of you! I am sure that OLE Nepal will continue to shape the country's education for the better and am glad to have been part of it.