By Ashraya Manandhar | March 2020
---
I joined OLE Nepal's teaching with technology residency program in 2018, after completing my Bachelor's in Social Work and Psychology from Tribhuwan University. I was one for three teaching residents to support 15 laptop program schools in the remote district of Darchula. After completing the teaching residency program in Darchula, I was even more excited for new experiences in a new place, and just then I was offered to continue the program at Jajarkot district in the Karnali Province, alongside my colleague – Prajwal Pokharel. The district headquarter in Khalanga was our first destination in the district, from where we traveled to two municipalities with our 12 laptop program schools: Nalgad Municipality and Kuse Rural Municipality.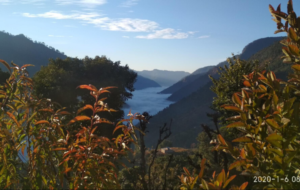 This photo of a spectacular view was captured from a place named Dadagaun in Nalgad, Jajarkot. Believe it or not, this was the morning view outside our room for a few days. I had to capture and share it, and I usually show my pictures to the students, teachers, and locals. They'd identify the Bheri river, but the river was covered by thick fog, and they couldn't believe it at first but later they did.
Speaking of local people, they were wonderful and supportive, especially the teachers of the schools that we worked with and hosts of places we called home for a few nights until our work at the community school was done. We moved often between the 12 schools, sometimes every other day. We enjoyed our visits in each school, as the students were interactive, friendly, active and energetic. We engaged with students through educational games as Fizz-Buzz, Tangram puzzle, and more.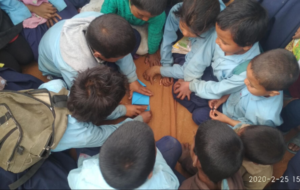 The students were quite fond of the new laptop program at their school and enthusiastic about the digital learning materials. It was an absolute joy seeing the reaction of students using E-Paath for the first time. They were also learning on E-Pustakalaya, with books from Bal Paathmala, and going through stories in OLE's new digital Early Grade Reading (EGR). They really loved the laptops and were very excited to go to the laptop room. We overheard the students repeatedly request the teachers for their E-Paath lesson, and watched them eagerly wait for their turn. We also noticed that schools had created their schedule around the laptop-integrated lessons.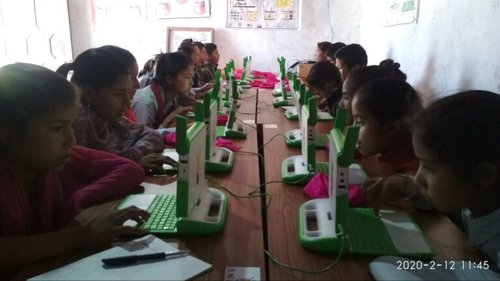 During the first round of support through our teaching residency program, we traveled to all 12 schools where we observed and supported the teachers if they had any challenge while teaching with digital resources. Each school had their own challenge.
Some schools were low on staff and while some schools had teachers who faced difficulties in teaching English. Even with the challenges, all the teachers and community members were very supportive towards our digital learning program at their school. Even in the first few months, schools have shown great outcomes, while some are working to improve their approach. Every teacher we observed in class brought their own unique way of teaching and communicating with the students. We learned and picked up something from each of them. It is a fact that teachers are the most important changemakers in any child's life, and it became even more clear to us in these remote schools of Jajarkot. I was really happy to be there at the schools, and to witness students learning on laptops for the first time.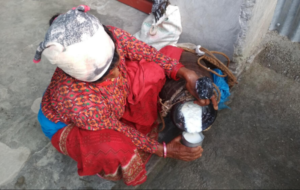 As part of the teaching residency experience, we also got to try the local food while staying in the community in Jajarkot. Locally grown red rice, fresh milks and curds, local fish, and more. I got to try 'nettle leaf' for the first time, also known as 'sisnu' in Nepali. When prepared and ready to eat it is also known as 'paalauro'. We also tried a special batch of honey, that looked a lot like local ghee. The color and texture of this honey (Kartikya mahaa) is named after the harvest season and believed to have medicinal properties. We also tasted wildcrafted Sichuan pepper also known as 'timur' in Nepali. They also had many varieties of fruits that we were surprised to see, and kiwi fruit was one of them.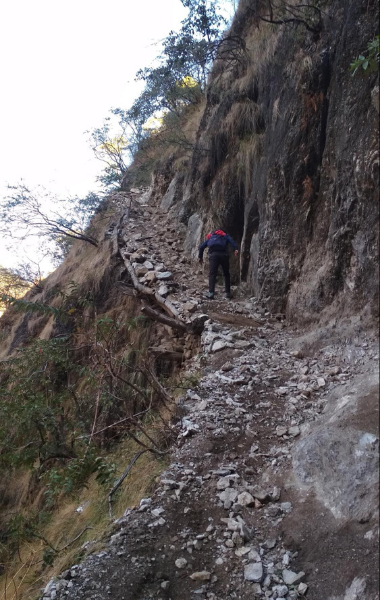 Travelling from one school to another, we were always on the road and mountain trails, which brings us to the next part of our experience: infrastructure in Jajarkot. Most of the roads we took were unpaved fair-weather roads, and most places didn't even have roads yet. We had to hike for 2-3 hours to reach some schools. Some trails were so steep and rugged that we could barely walk. There were few times we had to crawl up the hills. It made for a memorable experience and spectacular views the higher we climbed. Some communities had electricity from local hydro power plants, while some had access to solar power only. Mobile networks were also a challenge, as most places had CDMA networks and very few places had GSM.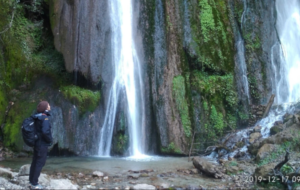 During the residency program in Jajarkot, we had a lot of new experiences and also got many opportunities to enhance our skills while visiting different places. We spent the entire winter of 2019 in Jajarkot, and although there were some challenges during 4 months (from November 4, 2019 to March 9, 2020) we were able to overcome them. Along the way, we met wonderful people who made our journey memorable, and we completely immersed ourselves in the local culture and lifestyle of the communities we lived in.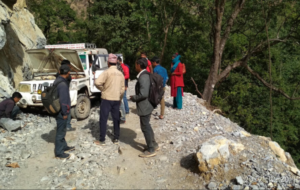 I am truly grateful to OLE Nepal for choosing to bring quality learning materials to remote schools in Jajarkot, and I'm happy to be a part of this initiative. The Digital Learning Program has contributed to improving the quality of education in these schools, and the teachers and students are very positive about this new approach to learning. Due to the COVID-19 pandemic we had to rework our schedule as the schools were closing early to take precautions. My coworker and I left Jajarkot on March 7, 2020. We hope to be able to return to support the schools when they reopen in the summer.