OLE Nepal's Teaching in Technology Residency program has been receiving rave reviews from school teachers, local communities and children. Each year, OLE Nepal trains young graduates to support the newly launched laptop program schools in the far western districts of Nepal. Ever since it was introduced 5 years ago, many young graduates have travelled to remote communities in these districts where they live for months working with schools and communities so that they can use digital technology effectively in the teaching-learning process. This year, three motivated individuals were selected for the Residency program in Darchula district. They will spend 5 months in this remote district, working directly with the teachers and students in the schools.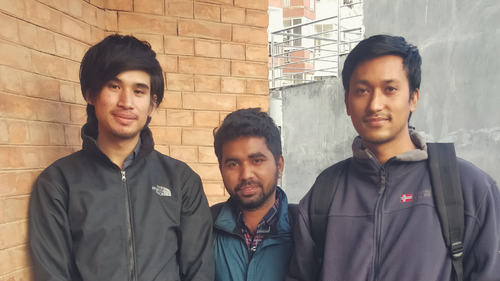 Earlier this year, OLE Nepal introduced the laptop program in 15 basic schools in the remote far-western district of Darchula. Teachers and students in these farflung hilly areas have started using laptops loaded with E-Paath learning materials in their classrooms. The program was launched with intensive 7-day teacher training program held in local municipalities in September 2018. The second stage of the training program will be held in December when our training team will visit each school to observe classes and provide feedback and additional help to teachers.
We are pleased to introduce you to this year's Residents.
Meet Subash! He had previously worked in a remote public school in Sindhupalchowk district as a Teach for Nepal fellow, and now in OLE Nepal he wants to use his huge passion of technology and travel to contribute for the positive impact in education in underserved areas. He believes OLE will be a great place to enhance his learning and experiences in the sector of education and technology. Subash has completed Bachelor in Electronics and Communication Engineering from the Institute of Engineering. Here are Subash's expectations from the Teaching with Technology Residency Program in Darchula:
| | |
| --- | --- |
| | "During this program, I am looking forward to know more about the situation of the education system in the primary level of rural schools. I have always believed that for the change in the education system of our country, we should start from the primary level by strengthening the base of the students. Technology will be playing a key role for such kind of transformation. I want students from the program schools to be more curious and work on the development of their critical thinking and questioning capability. I will always be encouraging such things in students and teachers as well. This program will help me to know more about the far western side of our country and know their cultures and traditions." |
Next, we have Ashraya! Before joining OLE Nepal, Ashraya worked as a trainee in different NGOs. He joined OLE Nepal because of his interest in the program, where he can work with the local schools and communities, which will help him gain new experience in the field of education. Ashraya has completed Bachelor's in Social Work and Psychology from Tribhuwan University. When asked about his expectations from the program, he said:
| | |
| --- | --- |
| | "Firstly, I'm looking forward to gaining new experience. I'm also looking forward to working in a different school and observe their education system. Since it is a field-based program, I'm looking forward to working in the community. Likewise, I'm curious about the culture and tradition of Darchula where I could learn good things from their lifestyles as well. I'm looking forward to interacting with the teachers, students, local people during the field visit. Likewise, looking forward to working with the team where I can give my best while coordinating, communicating, rapport building, implementing, etc for our purpose of the organization. Lastly, I hope to make this program fruitful." |
Lastly, we have Sanish! He joined OLE Nepal because of his interest in promoting quality education. During his time at OLE Nepal, he expects to contribute to improving education in rural areas and lessen rural-urban education inequality. Sanish has completed Bachelors in Business Information System from Kathmandu University. Here's what Sanish is looking forward to in Darchula:
| | |
| --- | --- |
| | "Besides working on a development problem of rural areas in Darchula by supporting quality education through the use of technology, I also expect to learn from my first-hand field experience. I hope to reflect on the current situation of education and take necessary actions by means of support, facilitation, and feedback to bring about positive changes. Moreover, I aim to learn by interaction with teachers and students and solve problems by means of new ideas and inspirations to improve school education, not necessarily by the implementation of existing or previous ideas. Finally, I also look forward to remaining open to new cultural experiences and, at the same time, explore new language, social traditions, communities, and values from my five months teaching residency program." |
The Teaching Residency Program gives them an invaluable opportunity to transform education in remote and disadvantaged communities. In addition to receiving training from OLE Nepal, they will also gain an immersive field-based experience. This is a unique opportunity to learn about the application of technology to enhance primary education while gaining invaluable insights into the challenges faced by schools in remote areas.
Watch this space for more updates from Ashraya, Sanish, and Subash!