For this teacher in Baitadi, a laptop is more valuable than gold!!
By, Kalpana Rimal (Trainer) & Anjana Shrestha (Teaching Resident)
---
Ms. Indra Pokharel, a math teacher at Saraswati Primary School in Maharudra, was one of the 26 participants at the training held in Patan, Baitadi on September 14-20, 2016. The trainers were pleasantly surprised when she arrived at the training carrying her own laptop, although it was not a requirement. When Indra learned that her school was selected for the digital literacy program, she acquired a laptop through the generosity of her brother, who had initially wanted to buy her gold jewelry. Indra insisted that he buy her a laptop instead of the gold jewelry.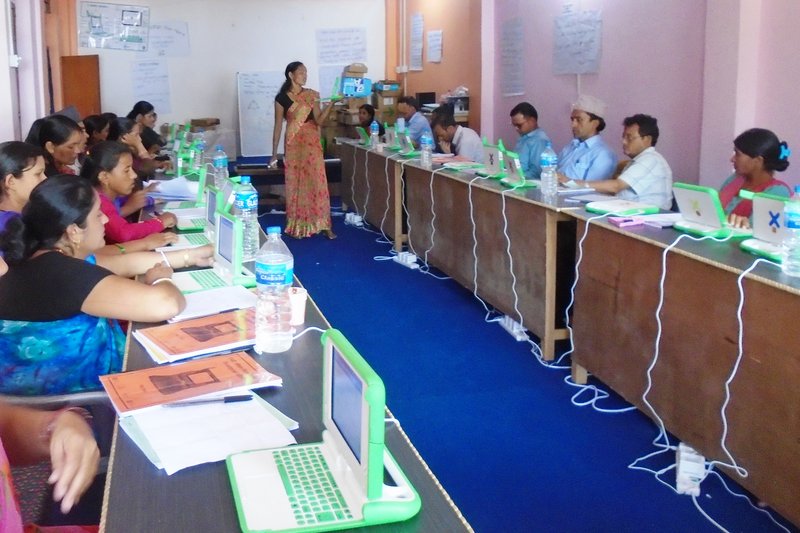 But it was not just the laptop that made her stand out in the group. She was eager to absorb everything she could and was always the first one present at the training hall in the morning. She was an active participant in group discussions, and raised many pertinent questions on student management and computer-enabled teaching strategies. She was a quick learner, and prepared the integrated lesson plans very well. She was keen to learn about digital educational content, E-Paath, and spent a lot of time exploring books that she had always wanted to read on the digital library, E-Pustakalaya. By the third day of training, she was doing everything on her own with ease.
During the closing session, Indra shared that she had learned more than just the computer basics, but had gained the skills to plan and deliver computer-enabled lessons in her classes. She added that these enhanced lessons will develop her students well and make them as competent as students who have easy access to libraries and online content in the urban areas.
It is always a big challenge even for experienced and motivated teachers to shift from traditional pedagogical methodologies to the ICT-enabled teaching-learning approach. It demands a lot of time and effort to make that shift in an effective manner. The main objective of the training was to provide teachers with a better understanding of how ICT can be used to enhance teaching and learning process. The case of Indra shows that the enthusiasm in teachers towards ICT in education and their commitment to apply it in teaching can improve quality of education in schools of remote areas.
About 2-3 months after the initial training, OLE Nepal's trainers visit the schools for the in-school training whereby they spend two days at each school to observe laptop-integrated classes, provide feedback, answer questions, hold discussions with teachers and meet with parents and community members. Our training team was eager to find out how Indra was doing when they visited Saraswoti Primary School on December 20-21. That day, Indra was teaching addition of fractions in grade 5.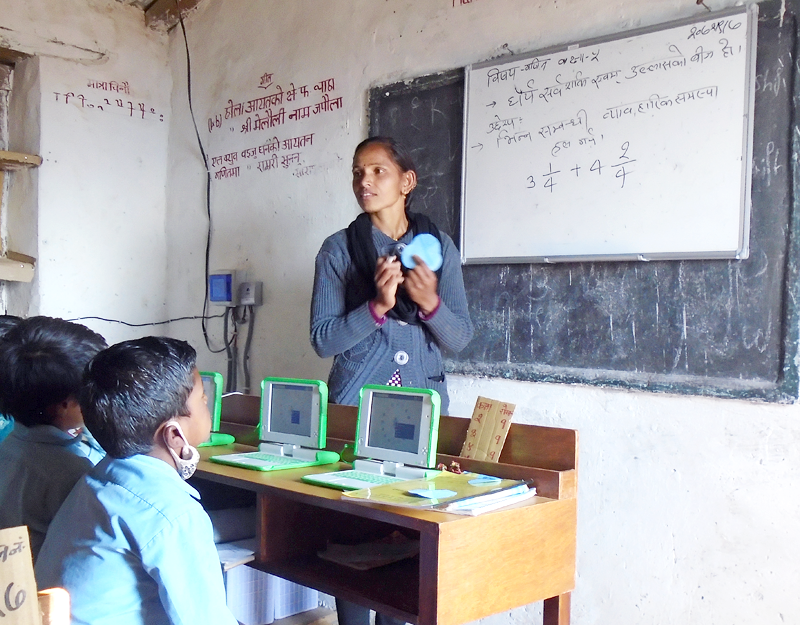 Indra followed her lesson plan and started by explaining the concept on the whiteboard, and then explained the method of simplification. She had the students do a small pop quiz before having the students explore the concept through the digital activity in the laptops. She walked around checking how the students were doing, and helped students who were stuck and answered questions from them. She then completed the class by summarizing the day's lesson and had students answer questions related to fraction addition.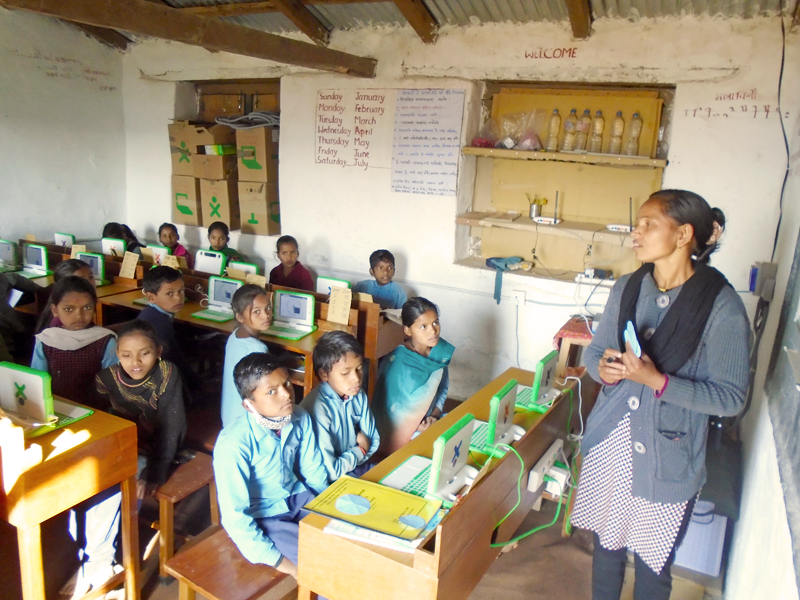 During discussions, other teachers mentioned that as focal teacher, Indra was always helpful when they faced issues in laptop-integrated classes. Since E-Paath has been installed in her personal laptop, she goes through the digital activities regularly to prepare her lesson plans at home. In addition to encouraging students to read books and other resources on the offline digital library that OLE Nepal has installed in her school, she herself accesses E-Pustakalaya regularly to read books and materials on professional development. She found these materials of great help in her preparation for the upcoming civil service examinations.
Teachers are the key to bringing positive change in the classrooms by molding young minds into critical thinkers and learners. At OLE Nepal, we work with teachers in remote areas to equip them with quality resources and strengthen their capacities so that children are provided a meaningful and fun learning experience. We are encouraged by teachers like Indra who show that it is possible to transform learning in rural classrooms one lesson at a time.